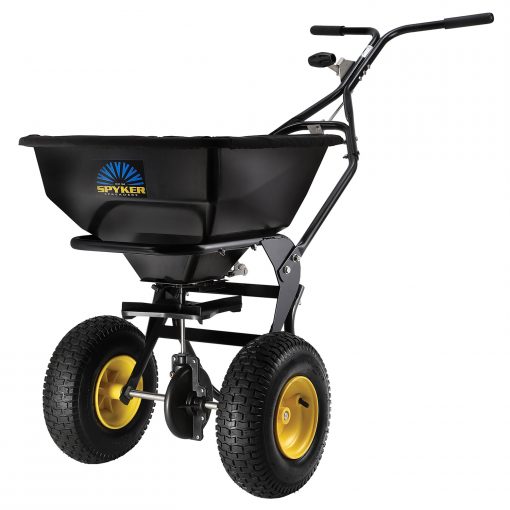 Spyker is pleased to introduce a new member of the ERGO-PRO™ fleet: The new SPY50L-1P Big Wheel Spreader!  The SPY50L-1P 50lb Broadcast Spreader has all the features of the SPY50-1P model, but includes larger Pneumatic tires that measure 13″ x 5″, the same oversized traction tires featured on our larger 80lb hopper ERGO-PRO spreaders. This means an even easier push across rugged or uneven terrain. Additional features of the SPY50L-1P include:
• Large pneumatic tires: The new 13″ x 5″ rugged tires are the same ones found on the ERGO-PRO™ 80lb Spreader models.
• Ergonomically designed handle: The ERGO-PRO™ line includes the industry's first Ergonomically designed handle. It adjusts for heights between 5'3″ and 6'6″ to decrease user fatigue.
• New Bridge-Free hopper design: We've redesigned the interior shape of our poly hoppers to prevent material from bridging, allowing granular materials to flow until empty. No bounding or shaking of the hopper required.
• Fully enclosed metal gears: Our durable metal gears come with zerk fittings and include a lifetime warranty.
• All-welded frame, stainless steel axle, & impact-resistant hopper: To ensure lasting strength and durability.
• Support stand: Allowing for max fill without tipping while also fitting rear platform carriers.
• Welded, triangulated handle: To reduce force on turns.
• Lift handle: The handle's positioning reduces strain while lifting, even when the hopper is full.
• Spyker Dial: The Spyker dial allows you to choose from 90 different settings so you can target the right flow rate no matter the granule size or application, which helps avoid wasting product.
• ACCUWAY™: This is Spyker's patented equalizer to ensure an even spread, with a calibrated opening and fan accuracy up to 12 feet.
• Fitted easy on/off hopper cover included 
And did you know… our ERGO-PRO™ 50lb spreaders actually hold up to 70lbs of commercial fertilizer? Check out the video to see for yourself! We put our hopper up against other competitors that list a 70lb weight capacity.
Be sure to check out all of Spyker's videos on our YouTube Channel.
Where to find a Spyker Spreader?
If you're looking for the new Spyker ERGO-PRO SPY50L-1P Big Wheel spreader, or any Spyker spreader, then we have options! You can check out our dealer locator to look for a dealer near you. You can also find out where to buy Spyker online by visiting this page.
If you have any trouble locating a Spyker dealer near you, then just give the Spyker Customer Service team a call! They can be reached at (877) 728– 8224.