When you and your crews are out on the job during a massive snowstorm, you want equipment, from plows, pushers and spreaders, to work without putting more strain on your body.
You also want a winter spreader that works in the harshest conditions. In other words, you need Spyker's newest premium commercial spreader, the Ergo-Pro™ salt spreader.
What is the ERGO-PRO™ Spreader?
The new ERGO-PRO™ is a broadcast spreader that's built to use comfortably in the worst weather conditions. This is Spyker's first ever winter spreader, so we took the time to do our research and get it right! The technology used to build our ice melt spreader makes it more efficient; there's less material waste, less time spent, and less back pain.
The ERGO-PRO™ Winter Spreader is designed for winter use on sidewalks, store entrances, parking lots, crosswalks, and more.
11 Reasons to Buy Spyker's Newest Winter Spreader
The ERGO-PRO™ has 11 features that make it perfect for salting commercial and residential properties. These benefits include:
Ergonomically designed handle: You can adjust the handle to fit your height. For example, you can change the handle to meet a person who is 5'3" all the way up to a 6'6" technician. If one of your snow team members is tall, then there's less hunching over to reach the handle. Overall, this customization reduces user strain and fatigue.
Bridge-free hopper: Thanks to a new funnel-shape hopper design, Ice melt flows freely through the spreader without getting stuck in the hopper. There's no more bouncing, banging or jostling to get the rest of the salt out of the hopper and onto the sidewalk.
Full Deflector: The included full deflector helps control material distribution, ensuring you spread the right material in the right place. Easily remove the deflector when it is not needed.
Learn more: Here are three things you need to know about buying snow and ice equipment.
All-Welded Impact Resistant Frame: The frame is sturdy and rust-resistant making it perfect for ice removal. It can handle windy, snowy conditions without tipping over or swaying in heavy winds.
Support stand: The stand is sturdy so that you can add a full hopper of rock salt to the spreader without worrying about it tipping over. Plus, the support stand makes it easy to transport the spreader to different jobs during a snowstorm.
Check out Spyker's YouTube videos to see our winter spreaders in action.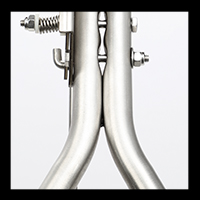 Welded-Triangulated Handle: The handle makes applying rock salt, or other ice melt easy. It won't slip out of your hands or make you twist around when making turns on the left or right.
High Capacity: The rust-proof poly hopper has a 100lb capacity and features an extra large opening for using granular materials like rock salt.
Lift handle: The lift handle makes it easier to move your Ergo-Pro™ from one area to the next. Plus, the ice melt spreader's design makes lifting it effortlessly—even when the hopper is filled with salt.
Fully enclosed metal gears with Lifetime Warranty: You'll notice that your Ergo-Pro™ salt spreader gears stays corrosion-free because it's fully enclosed on the appliance. The metal gears also come with a lifetime warranty.
Cold Shock-Proof Fitted cover: The fitted shock-proof winter cover protects your ice melt from the snow and wind. It's easy to lift up to refill the hopper with the corner tab.
Large pneumatic tires: You don't have to strain to push your Spyker winter spreader because the large pneumatic tires get great traction even in heavy snow.
Do you want to learn more about the new Spyker Ergo-Pro™ line? Then check out Jason Creel's video.
Get Your Spyker ERGO-PRO™ Salt Spreader Before the Winter Storms Start
You don't have to wait until the snow hits to get your Spyker ERGO-PRO™ salt spreader. Indeed, you can go to your local Spyker dealer today. You can also find the Spyker Ice Salt Spreader at NorthernTool.Com and SLEEquipment.Com.
Make your deicing jobs a cinch and save on injuries with our new ERGO-PRO™ Ice!