The Spyker ERGO-PRO™ Ice Winter Push Spreader combines premium durability with innovative features to take care of any winter job. We heard you wanted a spreader that could stand up to wear, tear, and the cold-weather elements– the ERGO-PRO™ Ice delivers.
Built with a tough stainless steel carving blade, you'll easily tear through ice melt and rock salt. The reflective frame keeps visibility high when working in low light or bad weather, while the ergonomic handle adjusts to heights from 5'3" to 6'6" to reduce user strain and fatigue. An all-welded impact-resistant stainless steel frame ensures this is a spreader is built to last, no matter how much abuse it gets on the job.
The redesigned large poly hopper prevents material bridging, while oversized fully pneumatic tires roll easily across any terrain. The enclosed metal gears offer endless durability thanks to a lifetime warranty.
MORE DETAILS
FEATURES
Model Number: SPY100-1S
Hopper Capacity
100 lb (54 kg) Poly Hopper
Spread Material
Seed, Fertilizer, Sand, Ice Melt. Recommended for Use with Ice Melt and Bagged Rock Salt.
Spread Width
4′ to 12′ (1219 to 3658 mm)
Dimensions
50″ x 28.5″ x 37″
(L x W x H)
(1270 x 723.9 x 939.8 mm)
Transmission
Metal Gears – Lifetime Warranty
Wheels
13″ x 5″ (330.2 x 127 mm)
Ship Weight
58.3 lb (26.4 kg)
SPECS
• Ergonomically designed handle adjusts for heights between 5'3″ and 6'6″ to decrease user fatigue.
• New funnel-shape hopper design prevents material bridging, allowing granular materials to flow until empty.
• Stainless steel carving blade slices through dense materials like ice melt and rock salt.
• Reflective frame keeps you visible in low light or bad weather conditions.
• Includes cold shock-proof winter cover and full deflector.
• Fully enclosed metal gears with a lifetime warranty.
• All-welded impact-resistant frame for durability.
• Support stand allows for max fill without tipping and fits rear platform carriers.
• Welded, triangulated handle to reduced force on turns.
• Lift handle positioning reduces strain while lifting, even when the hopper is full.
• Large pneumatic tires to easily roll over terrain.
• WARNING: California residents see Proposition 65 Information
100 lb Capacity
The rust-proof poly hopper has a 100lb capacity and features an extra large opening for granular materials like rock salt.
Lifetime Warranty
We back up the craftmanship and durability of our ERGO PRO™ spreaders with a lifetime warranty on our enclosed steel gears.
SPRING-LOADED LEVER
Enforced handle features a spring-loaded open-close lever with positive shut off for zero material waste.
SCREEN, COVER, & FULL DEFLECTOR
Includes a hopper screen, full deflector, and cold shock-proof winter cover with easy on-off tab for faster refills.
STAINLESS STEEL CARVING BLADE
Effortlessly slice through tough materials like Ice Melt and Rock Salt.

ADJUSTABLE ERGONOMIC HANDLE
Handle adjusts for heights between 5'3" to 6'6".
DURABLE ALL-WELDED FRAME
All-welded construction for durability in any conditions.

SUPPORT STAND
Fits rear platform carriers and allows for max fill without tipping over.
HI-VIS REFLECTIVE FRAME
Maintain visibility and stay safe when working in low light conditions.

WELDED, TRIANGULATED HANDLE
For reduced force on turns and extra strength.
BRIDGE-FREE HOPPER GEOMETRY
New design allows material to flow freely until empty.
LIFT HANDLE
Reduces strain when lifting – even when the hopper is full.
Watch The New SPYKER ERGO-PRO™ Line in Action!
See the Rest of the Spyker ERGO-PRO™ Fleet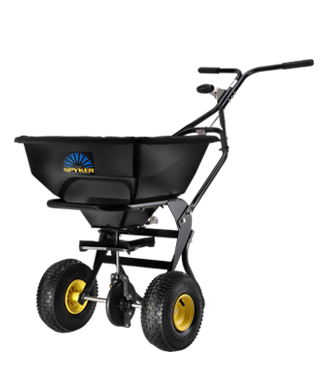 ERGO-PRO™ 50lb Powder-Coated Broadcast Spreader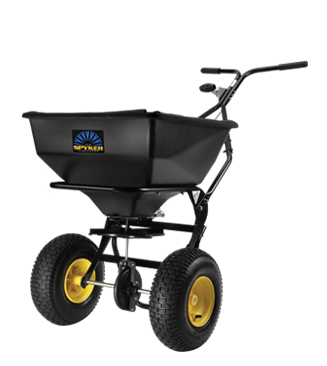 ERGO-PRO™ 80lb Powder-Coated Broadcast Spreader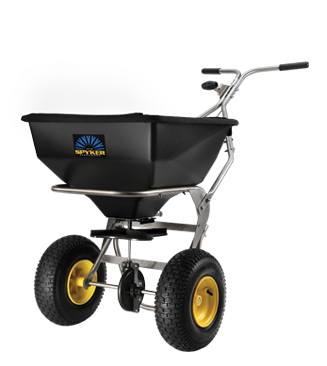 ERGO-PRO™ 80lb Stainless Steel Broadcast Spreader