Watch The New SPYKER ERGO-PRO™ Line in Action!
Built for the Pros, By the Pros
If you're tired of disposable spreaders, then get the last spreader you'll need. We listened to the pros and built the ERGO-PRO™ spreaders to meet your line of work's toughest conditions. That means durability and performance miles ahead of the rest.
A Bigger, Better Winter Spreader
We heard you wanted a better Snow and Ice Melt spreader for demanding winter jobs. The ERGO-PRO™ Ice-Winter Spreader includes additional features for just that, including a steel carving blade to slice through ice melt, and a reflective frame for safety in low light.
The Spyker ERGO-PRO™ Fleet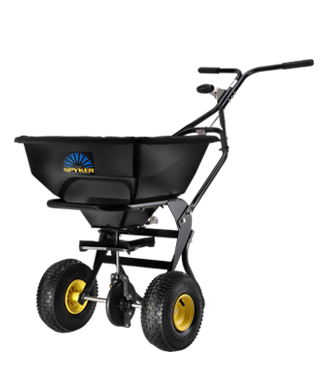 ERGO-PRO™ 50lb Powder-Coated Broadcast Spreader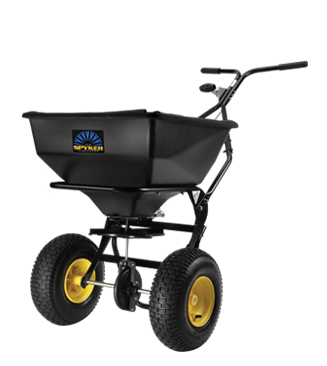 ERGO-PRO™ 80lb Powder-Coated Broadcast Spreader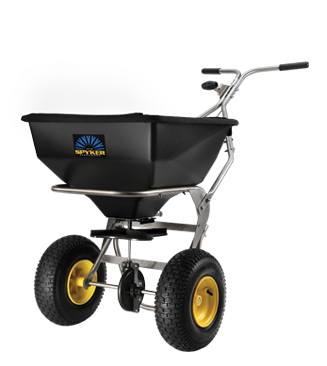 ERGO-PRO™ 80lb Stainless Steel Broadcast Spreader
ERGO-PRO™ 100lb Stainless Steel Ice Melt Spreader

ADJUSTABLE ERGONOMIC HANDLE
Handle adjusts for heights between 5'3" to 6'6".
DURABLE ALL-WELDED FRAME
All-welded construction for durability in any conditions.

SUPPORT STAND
Fits rear platform carriers and allows for max fill without tipping over.

WELDED, TRIANGULATED HANDLE
For reduced force on turns and extra strength.
BRIDGE-FREE HOPPER GEOMETRY
New design allows material to flow freely until empty.
LIFT HANDLE
Reduces strain when lifting – even when the hopper is full.